Sisseton Area Events:
Spay/Neuter Clinics 2023
Our next Spay/Neuter & Vaccination clinic will be held in October or early November 2023. Check back later for exact dates and location. 
We spayed/neutered 138 animals at our 22nd Spay/Neuter and Vaccination clinic on April 22nd and 23rd, 2023.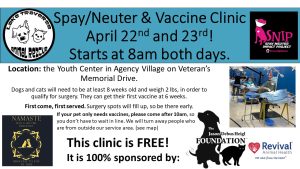 Service area for this clinic. We will turn away people driving from outside the black lines on this map.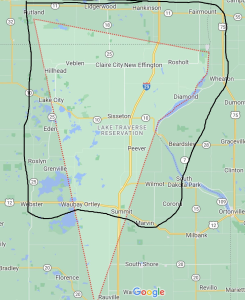 LTAR Community Vetting Program- ongoing throughout the year
Because our first spay/neuter clinic was cancelled in 2020, we knew had to come up with an alternative, to keep animals in the community safe from disease, and prevent an overpopulation problem. This has become an ongoing program.
<p>If you need help getting your dog or cat spayed (girls) or neutered (boys) and vaccinated, please contact us. You can reach out to us via email at laketraversedogs@yahoo.com, message our Lake Traverse Animal Rezcue Facebook page or text 763-232-3420 (I work, so can't always answer calls during the work day.)
Please send the following information:
Your name, phone number, what city you live in, if you are a tribal member, and if you're on any kind of public assistance.
Then about each pet: Is your pet a dog or cat, your pets name, breed (or color(s) and size if breed is unknown), their age, and if they've had any veterinary care (like vaccines) done in the past.
Once we have this information, we'll put you and your pet on the approved list, so you can call and schedule your own appointment. If you're not on our approved list, and call the vet clinic, it will not be covered by LTAR. We are primarily using the Wilmot Vet for full vetting services (Spay or Neuter, rabies and distemper/parvo vaccines). Wilmot Vet prefers boy animals to be 4 months and girl animals to be 5 months old, or older, in order to do surgery. Pets must be 4 months old to get rabies vaccines.
There may be a $25 copay, payable to the vet clinic on the day of the appointment. If you schedule an appointment, and are not able to make it, please call the vet clinic to let them know. If you can afford to vet your pet on your own, please do not request this service. We can help more animals if we focus on those that can't otherwise afford it.
We thank all of our veterinary partners for giving us discounted rates, that allow us to help more animals. It still costs us WAY more than $25 to vet your pet. We pay for this through fundraising, donations and grants. We do not get funding from the cities, counties, state or the tribe.
If you have any questions, please email laketraversedogs@yahoo.com.
Other Local Events: 
Watch here for more information.
Online Events: 
Our online auction on Facebook is open through 6pm on 8/7/23. Get your bids in! https://www.facebook.com/media/set/?set=a.629329912563127&type=3