Sorry, I've been forgetting to post our newsletters here!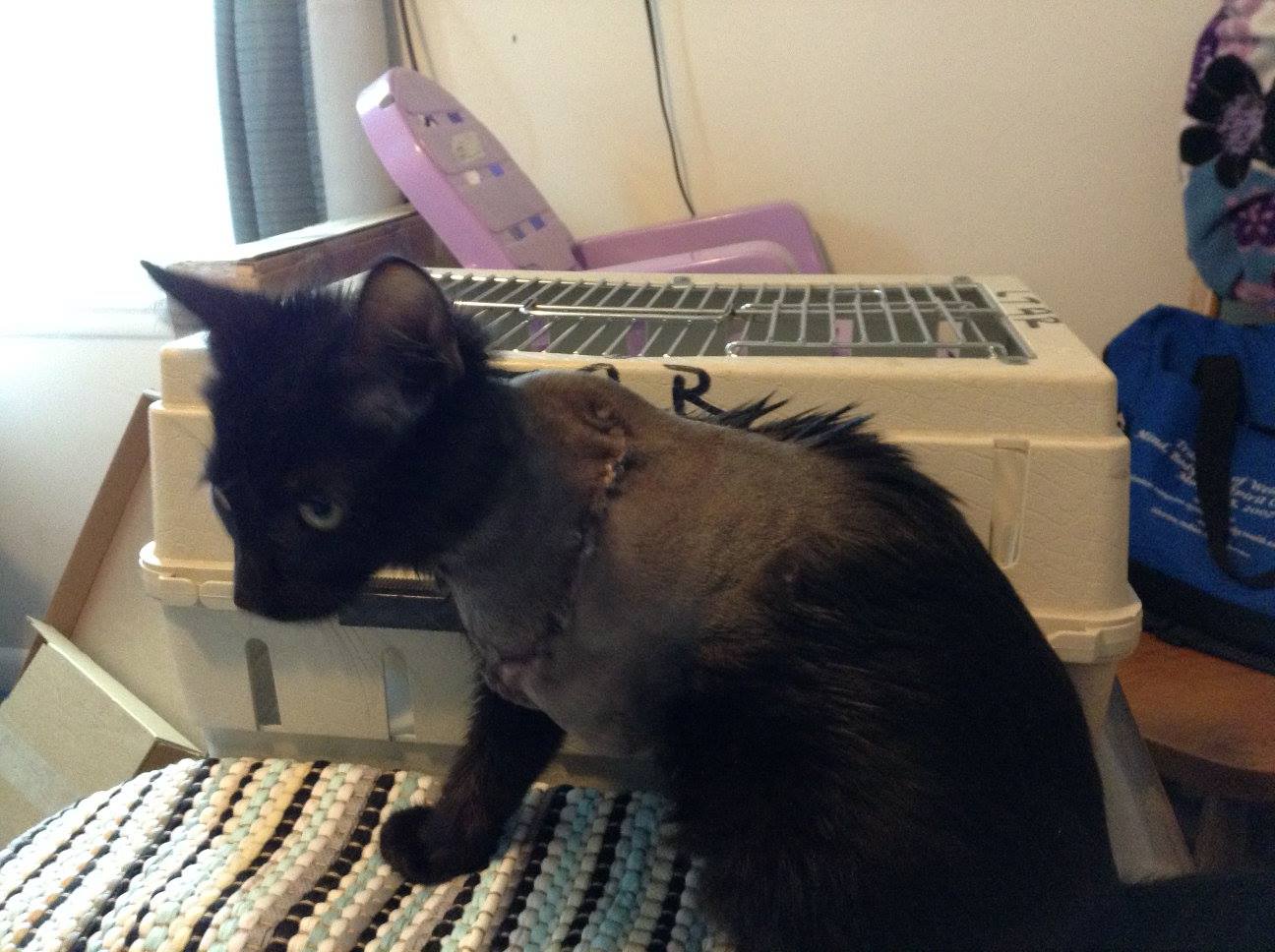 Success Story – Freddie the Cat
This is Freddie. He was found as a stray on the Sisseton-Wahpeton Indian Reservation in South Dakota. He had nerve damage to his left paw. His leg was amputated because there was no chance of the recovery for the leg. He was neutered and vaccinated at the same time. He tested negative for FIV. He has a very sweet disposition. The vet staff just fell in love with him. He went to Angels of Hope on September 16th, 2014. He has since been adopted on September 27th by a little boy and his family. We are so happy Freddie found his forever family!
The Largest Spay/Neuter Clinic Yet!
The Lake Traverse Animal Rezcue hosted a spay/neuter and vaccination clinic on September 15th-17th. It was our biggest clinic yet. Our veterinary partners from the Minnesota Spay Neuter Assistance Program did an amazing 121 surgeries over the 3 day period! We also vaccinated many pets that had been altered at our earlier clinics. This was nearly double the amount of surgeries that we did at our spring clinic. And, it was great to see some of those pets from previous clinics back to get their booster shots.
Thanks to everyone that helped get word out to the community, brought in animals for vetting, and volunteers that helped with the event. The only way we are going to get ahead of the animal over population problems on the reservation is by spaying and neutering pets. Although this clinic is free for reservation residents, it is not free for LTAR. We're working hard to come up with the funds to pay our clinic bill, which is $9,035!
We do not have dates planned yet for our 2015 clinics. Please be sure to watch our facebook page, and future newsletters for updates.
Happy Anniversary!
LTAR was formed in November 2010 when it was announced there would be a ban on dogs in tribal housing. We quickly worked to start removing strays from the reservation, but at the same time, started gathering signatures to help convince the Tribal Council that a ban on dogs was not the answer. We were able to first get the ban delayed, then later cancelled. Our onsite team continues to work with Tribal Council to improve animal regulations in the area.
As of September 23rd, 1635 animals had gone to rescue since LTAR began. We remove abused, neglected and unwanted animals from the reservation, including strays and owner surrenders, take in dogs from the Sisseton impound, and from Tribal Police. We transport them to foster home based rescue groups in MN, SD and ND, where they are adopted out to new families. To date we have also spayed or neutered approximately 680 reservation animals, all free of charge for owners.
Pause 4 Paws: Harvesting Hope for Animals
One of our biggest fundraisers of the year is happening on Thursday, November 13th, at the Downtown Minneapolis Hilton Hotel. It is the 4th year for the event, and the 3rd year that LTAR is participating. The event will feature wine and beer tasting, live and silent auctions, dinner and entertainment. Our LTAR fundraising team has been working hard to help procure items for the silent auction, and we've gotten some amazing donations. LTAR will also have a booth at the event, where we will be selling Dean Russo's Pit Bull calendars, Yoga cats calendars, jewelry and more! Get your tickets today! For more information and tickets, please visit the Pause 4 Paws website.
Upcoming Events:
Pause 4 Paws: Harvesting Hope for Animals: November 13th
Give To The Max Day: Online day of giving : Thursday, November 13th . Here is a link to donate to LTAR.
Open House and Photos with Santa, hosted by Crossroads Animal Shelter: November 15th- 16th . The Lake Traverse Animal Rezcue will have a table and will be selling items at this event. Photos with you and your pets; bake sale, gift items, Rescue Groups. Drop ins welcome, reservations at 763-684-1234.
Location: Rockford Township Hall 3039 Dague Ave SE, Buffalo, MN 55313
Giving Tuesday: December 2, 2014 LTAR will be participating in the National Giving Tuesday event. Watch our facebook page or website for more information.